Auction 117
Auction Status: Closed
Auction opened Friday, October 27, 2023
Auction closed:
Sunday, November 12, 2023 at 10:00pm ET; 9:00pm CT; 8:00pm MT; 7:00pm PT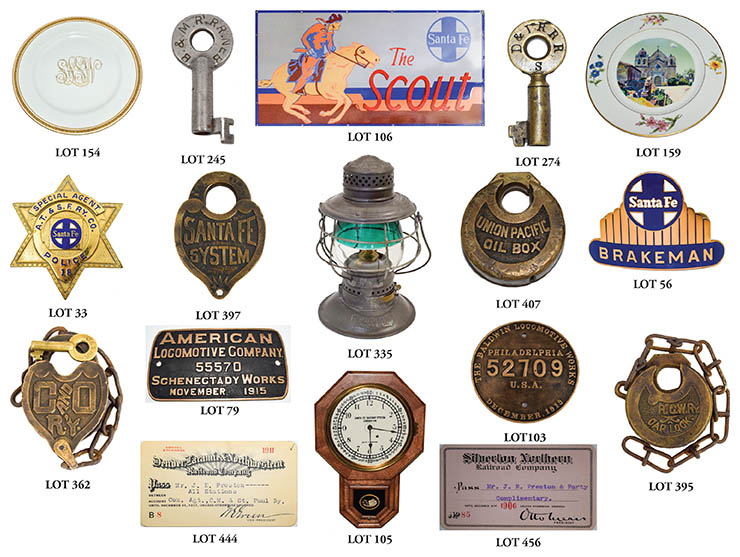 If you have not registered for any of our previous auctions, why don't you register for this auction now? Note if you get an error that your username or email exists, it is possible you have already registered and you don't need to register again and you only need to login (see below).
If you have registered for any of our previous auctions, you do not need to register again; you only need to login. If you believe you did register before, but perhaps have forgotten your username or password, you can just retrieve them.
I am proud to be opening this my 117th auction featuring more amazing relics from the Kidd Museum as well as continued offerings from the estate of Craig Neros.
As the holidays approach I want to take a moment to thank everyone for your steady support of Railroad Memories over the years. I have had the opportunity to handle some incredible pieces and have proudly realized record sales for many of my clients. One of the most important benefits of what I do, is being able to assist you in obtaining treasured relics for your collections. I am often asked if I collect myself. Honestly, I donít have to. I get to enjoy a plethora of Railroad artifacts in preparing my sales and then carefully prepare each piece to meet their new caretaker. I do have a passion for William Henry Jackson photographs as well as early Colorado railroad advertising broadsides which are proudly displayed on the walls of my home.
In closing I wish you and your families all the best for the upcoming holiday season along with good health and happiness.
Good luck!
Sue
---
It is so important to promote and contribute to these two organizations. So if you are not a member I highly encourage you to join today. Corresponding website information can be found below.
Key Lock & Lantern
Marie Brainard
35 Nordhoff Place
Englewood, NJ 07631-4810
Basic Membership $30 US
$40 International
Railroadiana Collectors Association, Incorporated
Joseph Hudson
P.O. Box 451
Travelers Rest, SC. 29690
Basic Membership $42
Auction technology and web site hosting provided by Bill Meier.