Price Realized:
$1,000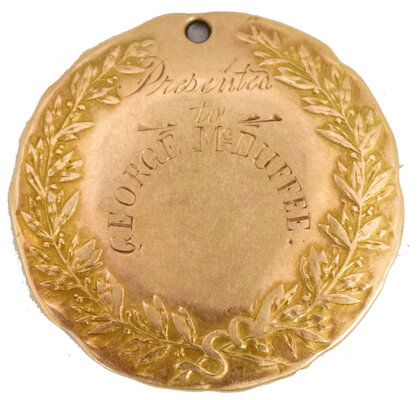 Lot:

28

Description:

OREGON WASHINGTON RAILROAD & NAVIGATION MEDAL – 14k gold engraved medal reads, "Presented to George McDuffee" on one side and opposite reads, "By Passengers OWR&N Train Saved From Train Robbers Near Pendleton Ore., July 2, 1914." Measures 1 3/8" diameter. This amazing historic offering is from Kidd's Toy Museum that was in Portland Oregon. A little research revealed that a robbery took place on this train as it was traveling in the Blue Mountains. Three men had planned to rob the Express Car as they were under the impression that the train would be carrying a large sum of money. Much to their surprise there had been an error in reporting, resulting in no treasure to be had. So, they turned their attention to the passengers on board not realizing that one happened to be Deputy George McDuffee. As the bandits began the assault Deputy McDuffee pulled his weapon and shot one of them, however, not before the robber was able to take aim at McDuffee. It was not the deputy's day to die, as the bullet which would have gone through his heart was stopped by a metal pencil case and pack of cards in his pocket. The two remaining bad guys escaped but were eventually caught. It was told by the general superintendent that the air brakes on a train of that weight on a steep

grade would

only hold for 15 to 20 minutes. Thanks to Deputy McDuffee the bad guys were stopped just in time to keep the passengers safe as the train would have lost its brakes and derailed over a cliff. A true piece of early rail history that will be a lifetime conversation and treasured addition for the next caretaker. Taken from an article written by Finn J.D. John, September 15, 2013, for "Offbeat Oregon History." Click on this link for the complete article. Web: offbeatoregon.com/1309c-meadors-gang-train-robbery.html This is truly one of the most historic pieces I have had the pleasure of handling and will be a true treasure and conversation piece for the new caretaker.


Minimum bid:

$1,000
Price Realized: $1,000
Auction technology and web site hosting provided by Bill Meier.