Auction Status: Closed
Auction opens: Sunday, April 26, 2020
Auction closed: Sunday, May 17, 2020 at 10:00pm ET; 9:00pm CT; 8:00pm MT; 7:00pm PT
In Memory of Gregory Allan Pinkham
August 12, 1950 - November 10, 2019
This issue is dedicated to the memory of a dear friend and fellow collector Greg Pinkham. The following excerpt is from his original obituary and I feel it is a wonderful tribute to this great guy: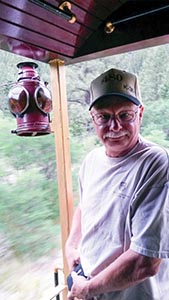 "Greg would describe himself as a regular guy, a devoted husband and a man who enjoyed working on the acreages that he and his wife Pearl shared for most of their lives together. He loved doing farm work with his tractors. Greg, an avid bow hunter and outdoorsman planted 11,000 trees on this Iowa acreage in support of wildlife conservation. He was generally obsessed with railroads and model trains. He amassed a renowned collection of railroad memorabilia and constructed many model railroads through the years. Greg is survived by his wife Pearl, his children Gregory Patrick and Lindsey Michelle, stepdaughter Sarah Brooks, his sister Sharon Brennan, and brothers Ronald, Daniel & Brian, his father Ronald, granddaughter Jesse Pinkham, and step grand-children Joshua Brooks & Carli Lentch."
Greg was born in New Jersey so his first introduction to collecting was a passion for finding relics from the Pennsylvania Railroad. Of course, over the years when he ended up here, his focus switched to Colorado railroads. He loved uniform buttons and cap badges as well as the usual lanterns, locks & keys. Bill & I met Greg over 20 years ago through our auctions. Greg was really instrumental in helping me secure the Longmont Fairgrounds last year for my show and we enjoyed working together on that project. A quiet and very humble man who was highly respected by everyone who had the pleasure of knowing him. He is sorely missed by his family but also by those of us who were blessed to have known him personally. I am honored to be entrusted with handling his impressive collection which will be featured over the next several issues.
During these uncertain times I do hope that you find this edition to be a welcome diversion to help take your mind off of the challenges we are all facing. From a health and safety standpoint I want to assure everyone that I am the only person who will be handling the merchandise. All packages are prepared solely by me and I am taking every precaution necessary to insure the buyer's safety.
I have chosen not to put on a show this year, but I certainly look forward to the future when we will be able once again to enjoy the comraderie of our fellow enthusiasts as well as enjoy time with our family and friends.
Wishing you all good health and thank you, as always, for your continued support.
Sue
---
If you have registered for any of our previous auctions, you do not need to register again; you only need to login. If you believe you did register before, but perhaps have forgotten your username or password, you can just retrieve them. If you have not registered for any of our previous auctions, why don't you register for this auction now? Note if you get an error that your username or email exists, it is possible you have already registered, and you only need to login (see above).
Please remember that I did change the final bidding window from 10 minutes to 5 minutes so keep that in mind. And remember it is always best to "Verify" your registration prior to bidding. Don't wait until the last few minutes to do this. The easiest way would be to at least put the minimum required bid on the items you are interested in. That way you can easily log in and find your summary at your fingertips. Makes bidding a lot less stressful.
Should you have questions or require more photographs please let me know, as I am only happy to be of assistance. As always I want to thank you for your continued participation and fingers crossed, you will find and hopefully acquire some treasures for your collection.
I would also like to mention the new book "Silver in the Diner" by John Fowler. This is a beautifully written and illustrated book that is a must for any collectors library. You can read all about at his website:
www.silverinthediner.com
Kindest regards
And good luck bidding
Sue
---
It is so important to promote and contribute to these two organizations. So if you are not a member I highly encourage you to join today. Corresponding website information can be found below.
Key Lock & Lantern
Marie Brainard
35 Nordhoff Place
Englewood, NJ 07631-4810
Basic Membership $30 US
$40 International
Railroadiana Collectors Association, Incorporated
Raymond Brown
P.O. Box 451
Travelers Rest, SC. 29690
Basic Membership $35