Auction closed on Sunday, September 23, 2018 at 10:00pm EDT; 9:00pm CDT; 8:00pm MDT; 7:00pm PDT
---
If you have registered for any of our previous auctions, you do not need to register again; you only need to login. If you believe you did register before, but perhaps have forgotten your username or password, you can just retrieve them. If you have not registered for any of our previous auctions, why don't you register for this auction now? Note if you get an error that your username or email exists, it is possible you have already registered, and you only need to login (see above).
This 102nd issue is dedicated to the memory of
C. Neil Shankweiler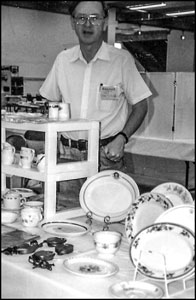 It is with much sadness that I share the unexpected passing of our dear friend Neil in late May. For those of us here in Colorado he was well known as one of the members responsible for the Mile Hi Rail Fair that ran for many years and was once considered one of the largest shows in the country. A lifelong member of the National Railway Historical Society as well as the Rocky Mountain Railroad Club, Neil was always present at many if not all of the local Railroadiana events.
He had a passion for Colorado railroad collectibles especially china. And had amassed over the years a very impressive collection of relics from all over the country.
His first love of course was the Philadelphia & Reading Railroad as he grew up in Doylestown, Pennsylvania and attended the Philadelphia College of Pharmacy & Science-class of 1962. After graduation, he worked for the Food & Drug Administration in Philadelphia as an analytical chemist. In the 60ís he moved to Aspen and then to Denver where he worked for Franklin Laboratories, PBI, and retired from Rosemont Pharmaceuticals.
Neil is survived by his sister Gloria Shankweiler, Doylestown, PA., and lifelong friends Bourke Mason, Littleton Colorado, and Dave Augsburger, Quakertown, Pa., and his furry buddy Raja. As well as a host of friends from around the country who shared in his love of the history of the railroad.
Neil was one of the true gentlemen in this hobby. Humble and kind, he was well respected by those of us who knew him personally. His sense of humor was priceless as he was a quiet person who would surprise you with his quick wit. A dear friend who will be missed by so many. Thanks for the memories Neil, until we all meet again.
This issue features many pieces from Neilís collection. I have been entrusted to pass his pieces on to future caretakers so with that in mind for those of you fortunate enough to obtain something from his estate I know you will cherish it as much as Neil did. My next several auctions will feature pieces from his collection so plenty of opportunity to add something to yours.
Kindest regards,
Sue
---
It is so important to promote and contribute to these two organizations. So if you are not a member I highly encourage you to join today. Corresponding website information can be found below.
Key Lock & Lantern
Marie Brainard
35 Nordhoff Place
Englewood, NJ 07631-4810
Basic Membership $30 US
$40 International
RCAI
Raymond Brown
P.O. Box 451
Travelers Rest, SC. 29690
Basic Membership $35